How to turn kitchen into a masterpiece?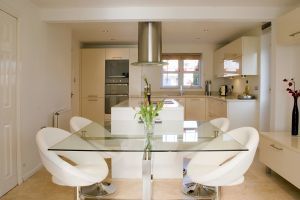 Kitchen is a real hearth. In many homes kitchen still remains the centre not only of art of cookery, but also the most favorite place for eating, heart-to-heart talks and rest. Kitchen interior must be comfortable and cozy. Modern kitchen design should be creative and original. Kitchen design consists not only of the way it looks, but also of the location of all the elements. Kitchen must be compact, comfortable, functional and good looking. Interior of kitchen is not limited by working space arrangement. Materials that you choose for decoration of walls and floor should be pleasant for the eye.
Kitchen furniture styles are divided into:
country – kitchens in this style are very cozy. The characteristic feature of such kitchen is using of noble materials (oak, ash tree, maple); (oak, ash tree, maple);
hi-tech kitchen interior reflects all cutting-edge technologies:
chief kitchen is a home kitchen designed in such a way to satisfy requirements of the most skillful chief cook;
not built-in kitchen has separate furniture;
Color in the kitchen interior. Usually, kitchen is much smaller than other rooms in a house. Here are small ruses in color design: red color in kitchen's design is not accidental, because red color (and also yellow and orange) whet the appetite and favor better digestion. Color does not only create emotional atmosphere, but also visually corrects room size, that's why it's not recommended to use too much of red, yellow and orange in small kitchens – these colors will make them look smaller. Besides, do not use "appetizing" red if you only cook in the kitchen, but don't eat there. In this case red would be more appropriate for a dining room, and kitchen could be decorated with cold "refreshing" tints of blue or green.
If you don't want to attract attention to your kitchen, it can be decorated in the same color palette as the interior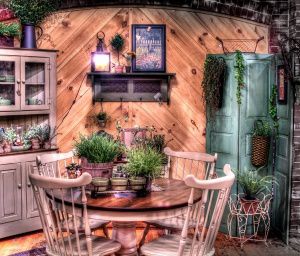 of your whole apartment (but in this case it's still allowed to paint kitchen walls in brighter colors). It's more preferable to choose light and clear colors, for example, tints of light-blue and light-green. These also can be light-pink and lemon-yellow, light-orange and other tints of warm colors. Thanks to these colors even small kitchenwill look more spacious. But remember that although cold colors make kitchen more spacious, they also can make it look deserted.
Usually, when choosing colors for walls, you always think about color of furniture color. You can make kitchen look more cheerful when adding yellow, light-blue, terracotta, motton blue pieces of furniture (chairs, shelves, cupboards).
Remember that there are forbidden colors for kitchen: dark tints of brown and black that can be associated with dirt and will definitely oppress appetite. Besides, dark colors make room smaller. This should be taken into account when choosing furniture, because color of a cupboard that takes considerable space in a small kitchen will inevitably dominate in color palette of a kitchen.